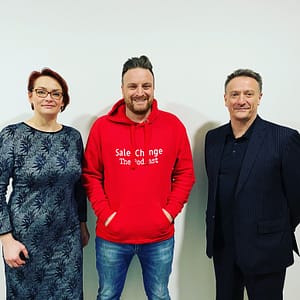 Recruitment – I know.. there are some good ones and some bad ones but Mploy are one of the true good ones. Voted as 'Company of the Year' at the Dorset Business Awards in 2019, No30 in The Sunday Times Top 100 Best Small Companies  to Work For (2019) and accredited 3rd in the South West by the Best Companies organization as being a 'Three Star Extraordinary' company to work for.
Mploy's Mark Nash and Kat Mieszkowska talk internal culture, growth strategies for their company, recruitment (obviously), the future of the recruitment industry and my own biggest recruitment gripe – speculative CV's sent randomly to company HR teams in the hope they can 'suitably' recruit.
This episode of The SalesChange Podcast covers –
History of Mploy and how they started – the vision.
How they are looking to build and where they want to go in the future.
What awards they have won and how they won them!
The biggest issue with the recruitment industry and what they would like to solve these issues.
How the recruitment industry will look in the future?
What does 'boss/leader' mean to them?
Answers to the 'SalesChange 5' questions.
On every SalesChange Podcast – we ask the guests to answer 5 standard questions – here are the responses from Mploy's Mark & Kat.
What was the last book you read?
Mark – The Outsider by Stephen King (we never did find out what the 2nd book was!)
Kat – The Culture Map by Erin Meyer
Who is the leader you look up to the most?
Mark – Jurgen Klopp – Liverpools 1st Team Manager (as at time of recording)
Kat – (aside from Mark) – Kat remained ambigious on this answer, she likes to be a sponge and retain 'best practices' from a variety of leaders – she also looks up to her parents (as does Mark).
What did you want to be when you grew up?
Kat – Psychiatrist – the branch of medicine devoted to the diagnosis, prevention, study, and treatment of mental disorders.
Mark – I wanted to be a barrister.. (aside from being a the director of a multiple award winning recruitment company).
Whats the worst job you could imagine doing?
Kat  – I've already done the worst job I could imagine, being tied to a desk in a call centre.
Mark – The worst job I've ever had was when I was at college, I was a cleaner. Cleaning toilets is not a great job.. people are very messy.
Instagram, Facebook, Twitter or LinkedIn?
Mark – LinkedIn
Kat – for 'private time', Facebook.. but for business.. LinkedIn.
Links