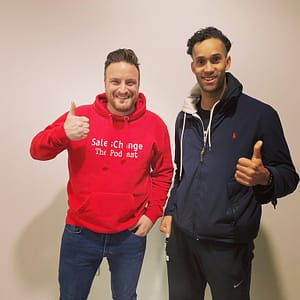 Personal Training is a funny industry (I think) – the general overview that I see online is the movement towards 'online coaching' – I have been one of those who have tried the new 'online' way – with some mixed results.. I like having a connection with a coach and getting a full exposure to their knowledge and experience.
Sean Burgess is one of those coaches who remains a coach in the gym – he hasn't made the leap into online just yet. On the podcast, we'll explore how he started, the opportunities he was afforded straight from university and the decisions he made to grow his fitness business from a franchised gym space to his own 'Ltd' company – the mistakes he made and what he thinks the future of his own business and the fitness industry will be.
This episode of The SalesChange Podcast covers –
How Sean started his own business – moving from a rented gym space to his own Limited company.
How he became the busiest trainer in the South West which led him to a successful fitness business.
What model he uses to recruit new personal trainers to his business and the mistakes he made in the past.
How structure and processes allowed him to upscale his business.
Using Social Media to grow his business – its not as straight forward as that!
Answers to the 'SalesChange 5' questions.
On every SalesChange Podcast – we ask the guests to answer 5 standard questions – here are the responses from Sean Burgess.
Instagram, Facebook, Twitter or LinkedIn?
Sean – From a business/marketing perspective, Facebook is the way to go. I do see value in Instagram but in terms of a ROI, I don't think its as successful as some people may think. I think LinkedIn is useful for entrepeneurs and for peopl who are looking to progress their own personal development. But being around London when Twitter was launching, my go to favourite has to be Twitter.
What did you want to be when you grew up?
Sean – Originally, I wanted to be a footballer – that was the dream. But I always knew I wanted to be a coach.
What was the last book you read?
Sean – Something really boring and very industry specific – Muscle Energy Techniques by John Gibbons.. No-one will want to read that!
Who is the leader you look up to the most?
Sean – Martin Luther King, I'm very into my history (some people know this, some people don't).. a lot of his message still resonate today, he was so forward thinking in everything he did.
Whats the worst job you could imagine doing?
Sean  – Being in a fitness role, it would have to anything sedentary – anything which tied me to a desk.
Links