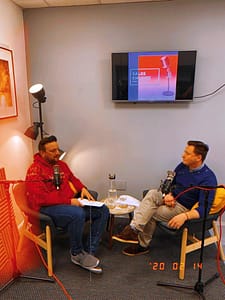 The Colour Works mission is to create vibrant workplaces in which all people feel valued and get heard, communication is honest and clear, decision making timely and robust and authentic leadership filters throughout the organisation. What does this mean in practice? How do they achieve this? Matt chats to James Hampton, The Colour Works Development Director about how psychometric profiles can be used to guide a company going through change and what The Colour Works do in order to ensure their own team remain committed and the direction is unified.
This episode of The SalesChange Podcast covers –
How The Colour Works use their own tools to guide their own business.
What factors affect a psychometric profile – is it environment or is it fundamentally the same with environment being a contributory factor to performance?
Self Worth – how does this affect performance?
What three actions could a new leader do to change a companies culture NOW!
Are all psychometric profiles 'wishy washy nonsense' or are they as accurate as The Colour Works would want you to believe?
How do The Colour Works recruit? And do they have candidates who try and manipulate their process?
Answers to the 'SalesChange 5' questions.
On every SalesChange Podcast – we ask the guests to answer 5 standard questions – here are the responses from James
What was the last book you read?
James – (We allowed a little cheating – to allow an audiobook submission) – The Chimp Paradox by Steve Peters
Who is the leader you look up to the most?
James – Difficult to pick just one.. But Mandela for his complete selflessness, Muhammad Ali for his positivity, his drive and being an activist and Einstein for bending reality so much!
What did you want to be when you grew up?
James – Originally, I wanted to be a chef! But I actually lived my 'dream job' being a windsurf instructor both in the UK and abroad for several years!
Whats the worst job you could imagine doing?
James – The worst job I could ever do would be something like a tax inspector I think, simply because of the thoroughness required!
Instagram, Facebook, Twitter or LinkedIn?
James – You can find us on all! (Selfless Plug!) but I prefer LinkedIn.