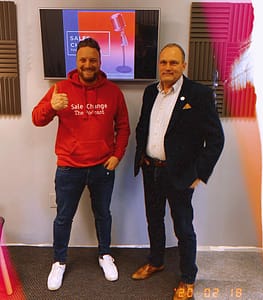 Paul Tansey is one of those really magnetic people and his company, Intergage are built in his image – there have been good times and bad times over the years and he knows that Intergage have had to re-invent themselves several times to stay current and move with the times.
Intergage are a forward thinking digital marketing company with an eye on the future – they know that both the workplace and the social media world are changing and they are continuing to keep pace. Whether that be through a 4-day working week in a flexible style or developing new 'automated' solutions but as you can imagine – all of this comes with its own challenges.
On this episode of The SalesChange Podcast, Matt chats with Paul about –
The process of growing from a sibling partnership to employing over 30 people.
The culture of Intergage – the value's of how Intergage is run.
Which is more important, Sales or Marketing?
Digital Marketing and innovation goes hand in hand but where do the ideas come from?
Is youth a pre-cursor for developing new ideas or does experience reign supreme?
How Intergage support the local community!
Is the 4-day working week/flexible working actually working?
Answers to the 'SalesChange 5' questions.
On every SalesChange Podcast – we ask the guests to answer 5 standard questions – here are the responses from Paul Tansey of Intergage..
Who is the leader you look up to the most?
Paul – Its very difficult for me to look past Nelson Mandela for his bravery.
Whats the worst job you could imagine doing?
Paul – I think any job is a matter of attitude – the worst job I ever had (and bless Lloyds Bank for giving me the job) was as a filing clerk but I made it fun by wearing trainers and testing myself in filing more and more everyday.
What did you want to be when you grew up?
Paul – Footballer – originally for West Ham but then I discovered a love for AFC Bournemouth (way before the Premier League).
Instagram, Facebook, Twitter or LinkedIn?
Paul – LinkedIn. Its the most business like – since they opened conversations and groups, its been the most worthwhile network for me.
What was the last book you read?
Paul –  Let's Get Real or Lets Not Play by Mahan Khalsa – a superb sales book and which applies the 7 Habits of Highly Effective People (by Stephen Covey) to create a 'no bullshit' approach to sales.
Links