Jules White is an awards winning international sales consultant with over 30 years of business and sales experience. Working in many different sectors selling everything from baby products to stainless steel to Yellow Pages she has also experienced every job role within sales, from telesales through to Sales Director and has a wonderful breadth of knowledge and experience to bring to her work.
She also secured investment from Peter Jones in the BBC's Dragons' Den, which is the ultimate pitch to win!
Her passion and mission is to bring a new outlook and perception to sales in the modern business age we live in, which will help you to truly be unique. Her 'Live it, Love it, Sell it' entrepreneur programme is also a book, and now the creation of UHP – Unique Human Proposition® takes it up a gear to deliver this effective methodology to the corporate market too.
Her style is passionate, inclusive and she immerses herself fully into every business to understand the human elements behind the brand – something which truly resonated with me so I needed to have her on the podcast!
---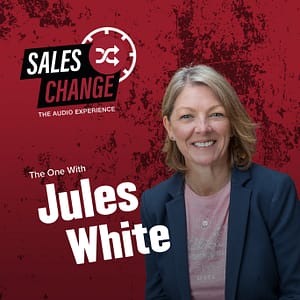 ---
This episode of the SalesChange podcast covers –
Jules' journey from mum to the Dragons Den pitch.
How Jules turned around a failing sales team to overperform in 2 years.
Her 'why' behind 'Love It, Live It, Sell It'
Why you shouldn't be fixated on the numbers when selling.
The problem with Direct Message approaches on LinkedIn
The answers to the SalesChange 5 Questions!
---
On every SalesChange Podcast – we ask the guests to answer 5 standard questions – here are the responses from Jules White.
What was the last book you read?
Jules – I've actually got two answers – the first is the book I'm currently reading and its the one from your former guest Sarah Townsend – Survival Skills for Freelancers– and the second book is one which I have currently finished is Forces for Good by Paul Hargreaves – a really lovely book which ties up the People, Planner and Profit – I really enjoyed this one!
What did you want to be when you grew up?
Jules – My first dream was to be an air hostess – but I didn't get it, I think I just wasnt tall enough back in those days!
Whats the worst job you could imagine doing?
Jules – Anything with numbers – honestly, despite being in sales – anything which involves a spreadsheet or loads of numbers just doesn't excite me!
What's the worst sales mistake you've ever made?
Jules –  I could say anything where you are just selling to the wrong client – you can't sell to EVERYONE. You have to find the right fit.
Who's the leader you look up to the most?
Jules –  Kevin Gaskell – Inspired Leadership – he is just so cool, he is all about people – he's also rode the Atlantic in his late 50's. Everything about him is inspirational and he really inspires through leadership.
---
LINKS
Connect with Jules on LinkedIn
Live It, Love It, Sell It Website
---
Listen Now